Manage All Your Ancillary Services Schedules
Homebase Scheduling Systems has expanded to manage the scheduling of all your ancillary services. This can be used as an integrated scheduler with ISN or it can be used as a stand-alone system to run a Inspection Ancillary Services Operation. As a stand-alone system it allows you to:
Manage ALL aspects of your radon operation, includes our full Radon Management System (See video details here www.inspectorshomebase.com)
Setup Client Portals for clients to place orders and make payments. This is for your repeat clients such as home inspectors or realtors
Receive retail orders and payments online
Ability to automatically send out inspection agreements and store signed agreements
Lock out access to reports if agreements are not signed
Upload URL's or PDF's to the reports for client access.
Easy to use drag-n-drop calendar events, pop-up editors and other tools ease the process of managing appointments
When a client orders, all included calendar events are created and placed in a holding area to be set on the calendar by your scheduler. This makes it virtually impossible to miss an appointment
Scheduling tools to aid in creating efficient routes for your technicians
Tracking tools to assist scheduling in making appointments to access homes.
Ability to Sync with Google Calendar
Technicians phone app for fast easy navigation through their schedule
And much more
When integrated with ISN, you have all the features above plus:
When ISN inspection orders includes Additional Services, those service events are automatically entered into the Homebase Scheduling System
Notes are posted back to ISN, updating the status of the ancillary services schedules
Google Calendar Sync prevents Home Inspectors who also perform ancillary services to keep their schedules from overlapping
Reports or URLs are automatically uploaded from Homebase to ISN from the technicians' phone app or the desktop browser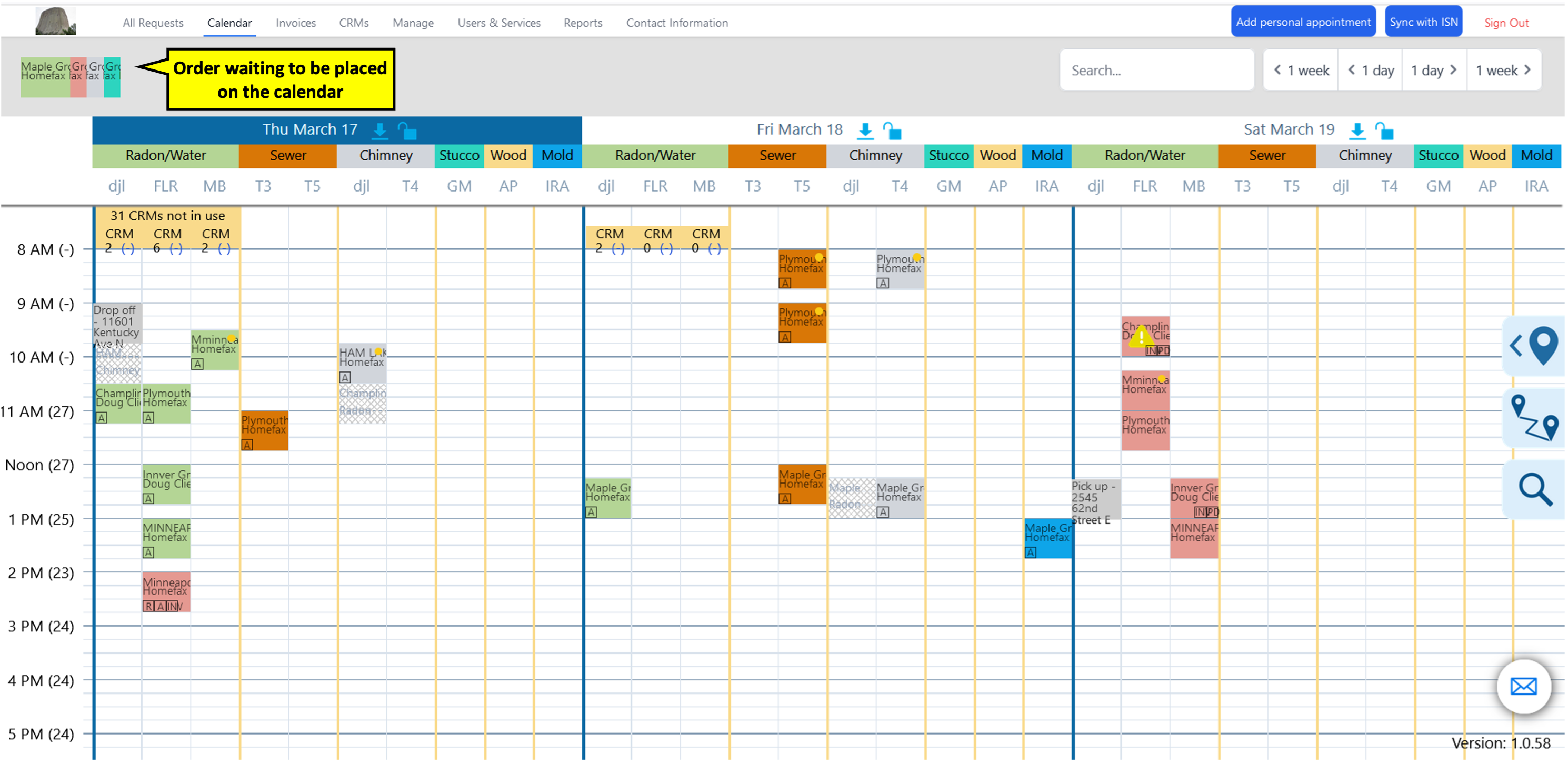 Pricing
1 sales unit is equal to one appointment scheduled for a particular address. Most services, like sewer or mold testing, only require a single appointment per address. Radon and water have two appointments per address, so 2 sales units will be charged. The maximum number of sales units charged per any one order (address) is 4.